Kiss Me, I'm Irish!
Did you know that March is designated as Irish-American Heritage Month in the United States? In 1991, Congress declared it to be an annual observance, and each year there is a proclamation by the President to mark the occasion.
Here are some fun, Irish-related statistics that have been gathered and reported by United States Census Bureau.
In 2015, 10.2% of the U.S. population claimed Irish ancestry. The state of Massachusetts is the home of the highest population of those, at 20.2% of its residents.
The population of South Bend, Indiana is 101, 516. South Bend is the home of the Fighting Irish of the University of Notre Dame. Only 8.1% of those residents claimed Irish ancestry in 2015.
21.1% of the residents of Boston metro area claim to have an Irish background. Boston is home to the Boston Celtics in the NBA.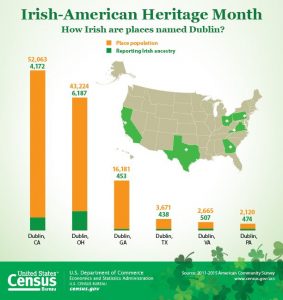 That Old Irish Spirit
There are 15 places in the U.S. (either cities or counties) that share their name with Dublin, the capital of Ireland.
There are six places in the U.S. called Shamrock. (OK, TX, MN, MO & NE)
You could visit Irishtown, Illinois if you are looking for a lucky charm.
Maybe try your luck in one of the places called Clover. (SC, IL, MN, PA, VA, WV or WS)
There are many more interesting facts about Irish-Americans on the U.S. Census Bureau's website. You can read about it here.