Red, White & Boom
As we are getting ready to observe Independence Day in the United States, there are some interesting facts to learn about the events that inspired the holiday, and how Americans choose to celebrate the occasion. Many people spend time with family during the holiday week, traditionally shooting off fireworks or attending picnics, parades or backyard barbecues. Perhaps others will take advantage of a day off work with a camping trip or swimming. No matter how you spend your time off, it's good to know why we are afforded the freedom to do so.
The Declaration of Independence was signed and approved on July 4, 1776, which made the 13 original colonies into a nation. According to the Historical Statistics of the United States, the population of the nation in 1776 was 2.5 million. Since then, the population has reached over 323 million residents, as of 2016. Talk about growth!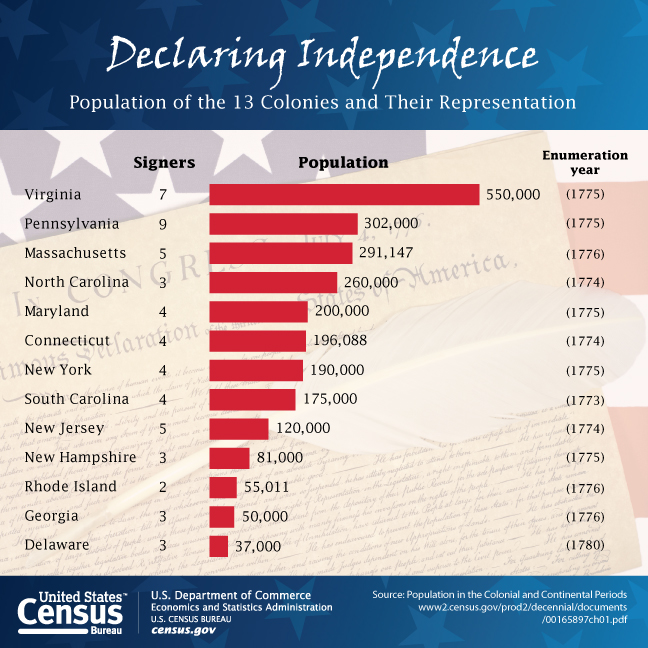 56: men signed the Declaration of Independence, including Benjamin Franklin, John Adams, Thomas Jefferson and John Hancock
John Hancock was the first to sign the document.

Ben Franklin was the oldest to sign, at age 70.
The United States imports about $296.2 million in fireworks each year from China, of the $307.8 million total fireworks imports. Then, domestic retailers sell them at a total value of about $368.6 million. (2012 figures)
33: Number of counties and incorporated places in the U.S. that contain the word "Liberty" in the name
Some of these are:
Liberty County, Texas

Liberty County, Georgia

Liberty County, Florida

Liberty County, Montana
1: Number of U.S. Places with "Patriot" in the name
It is worth noting that in 1776, the colonies fought for freedom from the British. Interestingly enough, today, Britain is the 7th-leading trade partner of the United States, with a $108.7 billion trade value.
23 million:  Number of U. S. residents who report having English ancestry, ranking 3rd behind German and Irish
Stats for this information were compiled from various sources, and listed at census.gov.