Spooky Halloween Facts
The celebration of Halloween dates back nearly 2,000 years, when it had quite a different tone. What started out associated with witches, ghosts and vampires has turned into a more kid-friendly occasion that is linked to carving pumpkins and eating candy.  In the United States, Halloween is also a very profitable holiday for retailers and candy manufacturers.
Trick-or-treating is a big deal, whether you have children or not. On Halloween night, chances are you are either escorting your little ones around the block or standing guard at your own door to pass out candy to your neighborhood masked superheroes.
In 2015, there were an estimated 41.1 million trick-or-treaters in the U.S. between the ages of 5-14. According to the U.S. Census Bureau, there are 118.8 million occupied housing units for those kiddos to visit and collect loot.
*Source: U.S. Census Bureau Facts for Features.
GOT CANDY?
39, 815      Number of people employed by U.S. establishments that produced chocolate products in 2015
18, 427      Number of people employed by non-chocolate confection producers in the U.S.
GET INTO THE SPIRIT                                                                                                                               
There are many places in the United States that fit right into the theme of Halloween, without even trying.
Tombstone, AZ (population 1,300)
Sleepy Hollow, NY (population 10, 198)
Kill Devil Hills, NC (population 7,121)
Casper, WY (population 59, 324)
Scarville, IA (population 71)
And, who could forget, our very own Yellville, Arkansas (population 1, 171)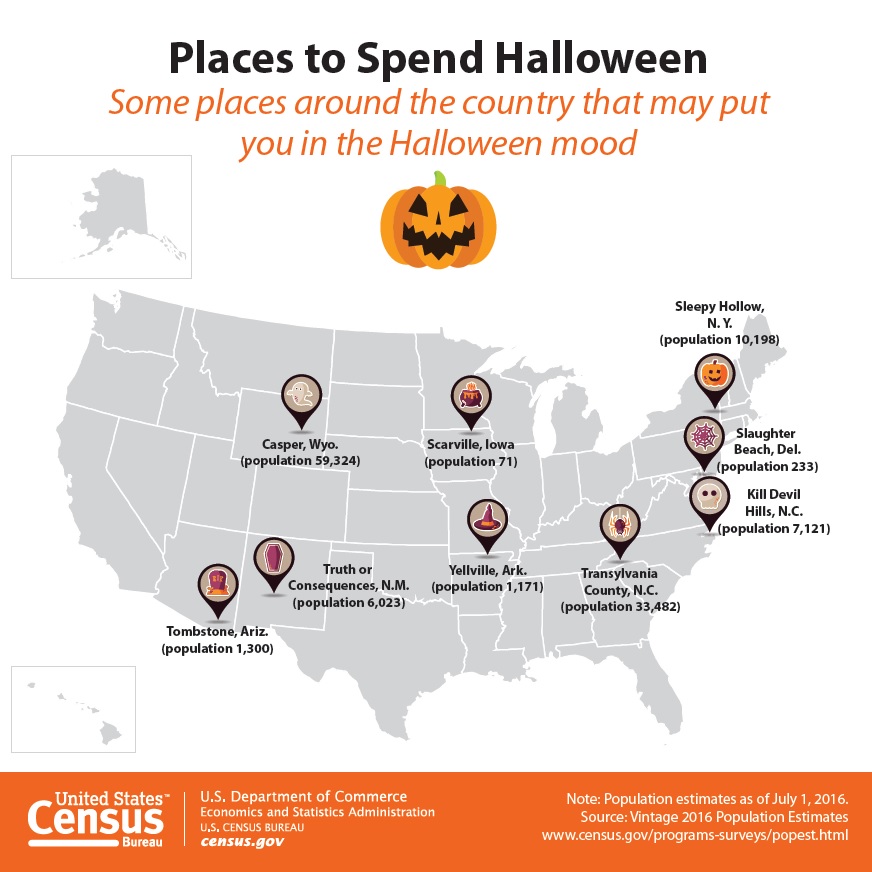 SEEING ORANGE
The value of U.S. imports of pumpkins in 2016 reached $12.4 million.
SCARY TIMES  
Many people choose to watch horror movies during the Halloween season. If that's your thing, then you are in luck! There are 4, 407 movie theaters in the United States where a person could catch a scary flick for Halloween. The most theaters are found in California, Texas, New York and Florida.