Giving Thanks
Just about everyone knows the story of the Pilgrims and Indians, and how Thanksgiving is believed to have started in 1621 with a three-day feast to celebrate a bountiful harvest. Due to that first Thanksgiving, Americans are able to enjoy an annual feast of gigantic proportions, nap on the couch, watch some football and argue with our favorite relatives.
According to the U.S. Census Bureau, Thanksgiving became a national holiday in 1863, when Abraham Lincoln made a proclamation that it would be observed on the last Thursday in November. However, years later, the holiday was cemented on the fourth Thursday of the month by President Roosevelt, who felt that it was necessary to set up an earlier start time to the holiday shopping season.
Thanksgiving itself has a lot of rich tradition dating back to the Pilgrims and Indians. In fact, some Americans can even trace their heritage back to the time of the first settlers. The 2016 American Community Survey says that there are 23.8 million U.S. residents of English ancestry that could possibly be traced back to the time of early settlement. In contrast, there are only about 6,500 members of the Wampanoag American Indian tribe in the U.S., most living in Massachusetts. The Wampanoag Indians are the tribe that is credited with being part of the first Thanksgiving.
Fun Facts
Places in the U.S. named after the famous Thanksgiving bird
Turkey Creek, AZ (population 405)
Turkey City, TX (population 367)
Turkey Creek Village, LA (population 357)
Turkey Town, NC (population 280)
There are 66, 284 supermarkets and grocery stores in the U.S. (2015 stat). They will all surely be busy this week!
244 million   Estimated number of turkeys raised in the United States in 2016
44.5 million turkeys came from Minnesota, which is the top producer of turkeys in the nation, followed by North Carolina with 33.5 million and Arkansas with 26 million, according to the USDA.
859 million pounds of cranberries came from the U.S. last year. The top three cranberry-producing states are Wisconsin, Massachusetts and New Jersey.
There are 4.6 million multi-generational households in the United States, meaning that three or more generations live together. With those kinds of numbers, it's no doubt that some families have a lot of mouths to feed on Thanksgiving Day!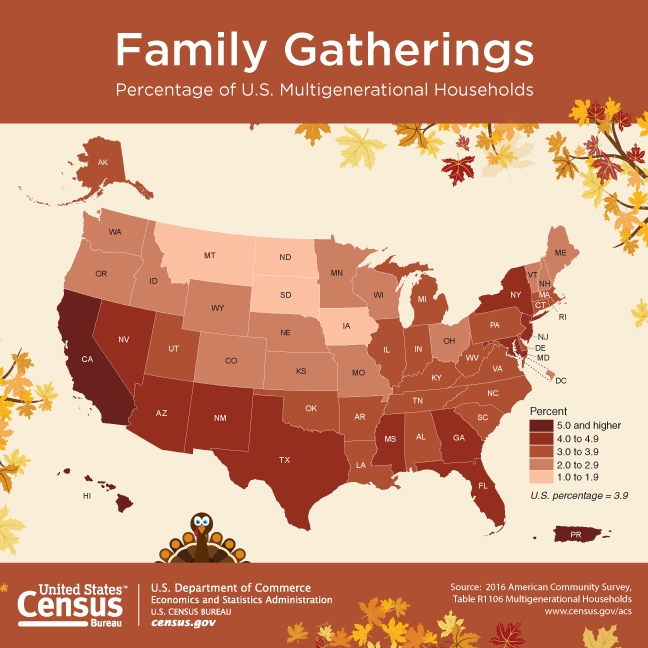 Source: USDA, American Community Survey and census.gov Facts for Features and pexels.com