Thankful for Teachers
It's national Teacher Appreciation Week! This designation is officially observed during the week of the first Monday in May. This is the time to show thanks and appreciation for all of the professionals who are dedicated to spending every day helping our children learn and grow in their classrooms. These community leaders have a heart for children and, quite often, the patience of saints.
The national PTA organization began recognizing teachers on this week in 1984, and it has become an annual event. There are many ways that students and parents can recognize the special teachers in their own lives.
A small token of appreciation can go a long way to show teachers that they are appreciated. Many simple ideas can be found on Pinterest. Even a handwritten note from a parent or child will surely brighten any teacher's day. Other gift ideas include homemade baked goods or gift cards to be used for restaurants, movies or office supply stores.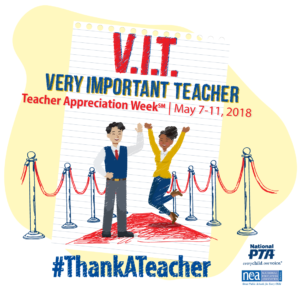 There are some fun, free printable certificates available on www.pta.org that can be used by anyone, along with graphics that can be shared on social media.
Chances are, if you think about your own school experience, you can remember at least one special teacher who had an impact on your life. One day, your own children will be able to do the same.
Source credits: pta.org and pexels.com