National Volunteer Week

April 7-13 is National Volunteer Week in America. The designation was established in 1974 by a Presidential Proclamation in order to show appreciation for people who volunteer their time for community service, and also to showcase volunteer opportunities within communities.
According to the latest Volunteering in America report, there were 77.3 million adults who gave volunteer time that totaled 6.9 billion hours in 2015. That is a huge commitment to serving others.
The Corporation for National and Community Service reports that one in three adults (30%) volunteer through an organization. Generation X had the highest volunteer rate among age groups, at 36.4%. In addition, the Baby Boomers group served the highest total hours of volunteer time with 2.2 billion hours. Millennials' rate of volunteering has increased six percent since the previous report was released. Over the past 15 years, Americans have volunteered 120 billion service hours that has about a $2.8 trillion value.
The CNCS says research shows that volunteering can provide a pathway to securing employment for many people. They have some interesting statistics:
Volunteers have 27% higher chance of finding a job when out of work than others.
Volunteers with no high school diploma have a 51% higher chance of finding work after volunteering.
The CNCS also captures specific information for each state in the country. Here is how Arkansas looks when it comes to volunteering.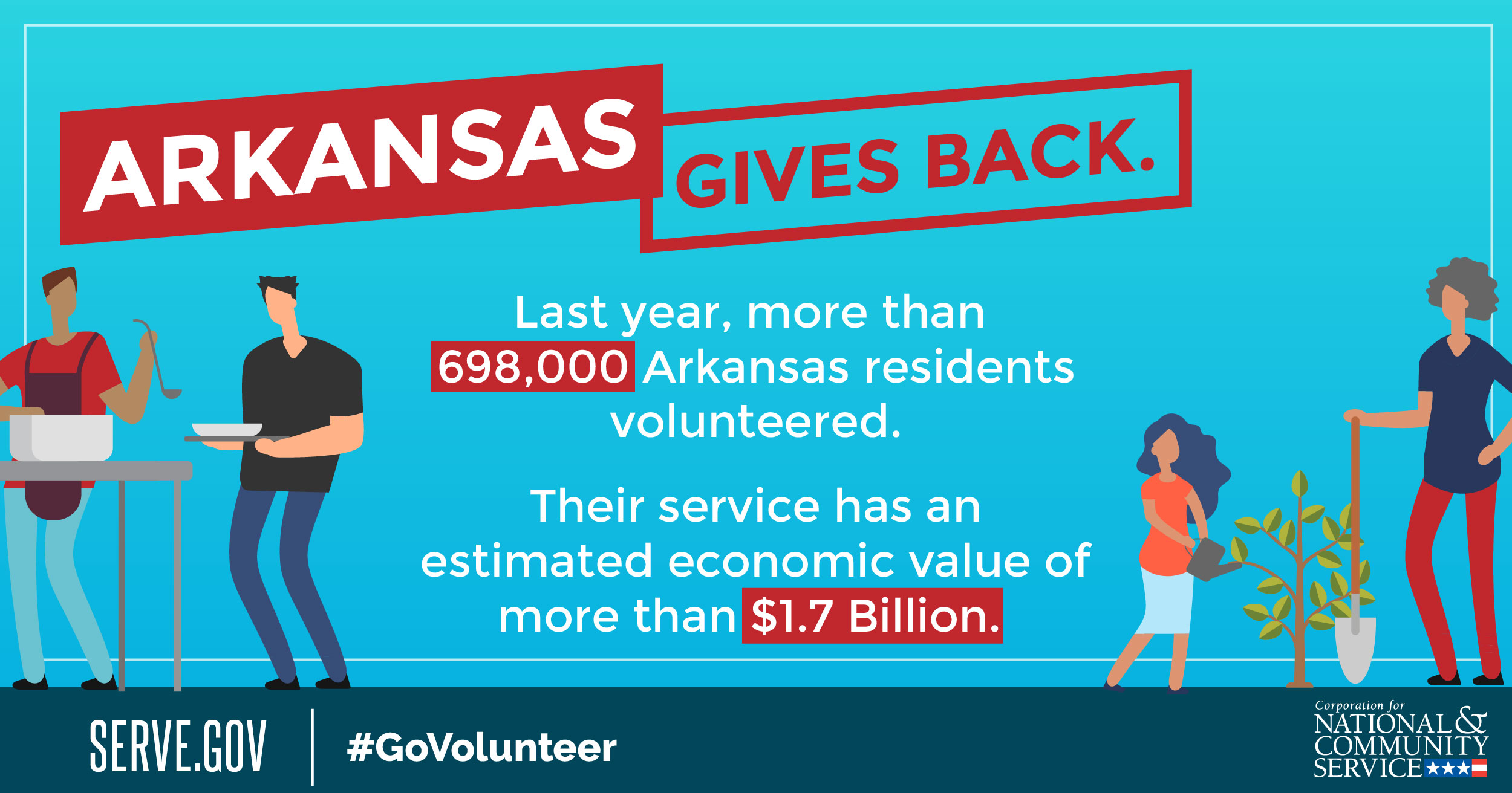 30% of Arkansas residents volunteer (ranked 35th in US)
96% of Arkansas residents regularly talk to or spend time with friends and family
49.8% of Arkansas residents do favors for neighbors
17% of Arkansas residents do something positive for their neighborhood
28.6% of Arkansas residents participate in local groups or organizations
48.9% of Arkansas residents donate $25 or more to charity
If you are interested in finding volunteer work in your community, try pointsoflight.org or serve.gov for a list of opportunities.
Sources: nationalservice.gov, pixabay.com, National Day Calendar